Partnerships within and outside the school are an important aspect of the Active School Flag. When a school participates in the Active School Flag Programme it is vital to interact and engage with other organisations and clubs.
Active School Flag Committee
Our Active School Flag Committee was established in October 2018 andis made up of one student and one sub from each class so we have 46 students in total. We meet fortnightly and work hard to achieve our Active School Flag in St. Finian's!
With the help of the committee, the whole school- staff and students- are kept informed on our quest! Our committee members keep all classes up to date on ASF news and events and have an ASF notice board and suggestions box.
Athletics
Throughout the month of October all classes in St. Finian's were focused on the skill of running. With that in mind we invited past pupil Jennifer Mc Adams to come in for a chat with the 6thClass students about her success in Athletics. On the 18thOctober Jenifer returned to St. Finian's and the 6thclass students had an enjoyable afternoon listening to Jennifer describe the dedication and hard work that is needed to become a serious athlete. Jennifer is an all-Ireland 1500 metre champion and has won many medals with her school and athletics club such as cross country and long distance. In particular, Jennifer spoke to the students about being 'patient' with running in order to work towards becoming an  an All-Ireland champion.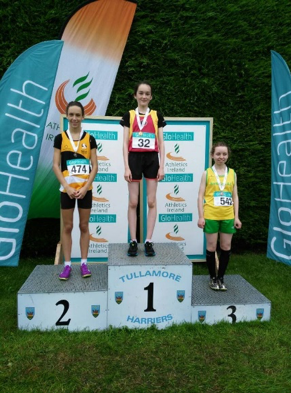 St Finian's GAA
On Wednesday the 24thOctober St. Finan's football team came in to visit the school after winning the football final. The team encouraged the children to join St. Finian's GAA if they are not already a member and commended the children who persistently attend training. The team inspired the children with their win, showing that the dedication and hard team work can pay off!
Active Schools Week
Active Schools Week will take place in Term 3. Information about Active Schools Week will be posted closer to the time.